This contest is now CLOSED!! Thank you to all who entered!
May is here and that means Mother's Day is just around the corner! Stretching Your Budget will have tons of giveaways all through the month! So, if you're a mom, grandma, aunt, sister, or friend of someone who is a mom, then enter to win! Someone has to win, so why not you?
The first giveaway of the month: A book titled "The Naked Mom" by Brooke Burke (Host of Dancing With the Stars).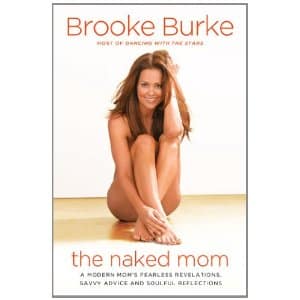 In this book, Brooke shares her story of being a mom. She shares candidly about all the "real" truths about being a mom and what we really go through! This book, has shares what worked for her and what didn't! Brooke shares about her time on Dancing With the Stars and her life with 4 children.
"The Naked Mom is motherhood, revealed. It's not about being right or wrong. It's about being authentic. When you're raising four children, running a household, tending a relationship, building a multimillion-dollar business, and pursuing a television career, there's no room for pretense or posturing. I always knew I would be a mother, but I never imagined I would have this many children this fast, or that our lives would be full of changes and new challenges every day. But I was raised to take chances, to be strong, and to find my own way. When I think about myself as a mother, I suppose that's just what I've done. I don't believe in A-to-Z guides that spell out the "right" way to raise your children, or be a wife, or realize your personal goals. There's always going to be someone out there wanting to tell you exactly how to do it—that opinionated friend who thinks her way is the only way, another mother who's doing something better than you are."
-Brooke Burke
Rules:
You must be 18 to enter.
You must reside in the U.S.
You must enter the mandatory entry to be eligible to win
To win this book follow the steps below:
Mandatory Entry: (If you already like us, comment that you do)
1.
"Like" Stretching Your Budget on Facebook
!
Additional Entries: (If you've already do these, leave a separate comment for each one )
2. Follow us via GFC (on the right side of the page)
3. Subscribe to Stretching Your Budget by email to get all the latest and greatest deals sent to your inbox!
4. Follow us on
Twitter
5. Follow
Southern Bellas Ways to Save
on Facebook!
6. Follow
Just Trying to Save Money
on Facebook!
7. Share this giveaway on Facebook (daily entry, leave a comment each day that you share it)
To win other fabulous gifts for mom, go
here
to see a list of current giveaways!