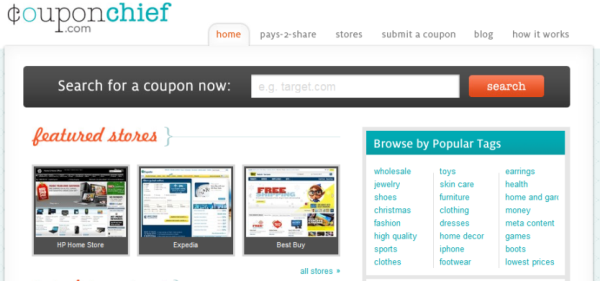 The internet is full of resources, however, have you ever found yourself searching for online coupons for hours between many different websites? I know I have!
Well, there's a new website that offers it all in one spot!
Couponchief.com
!
Coupon Chief is one of the fastest growing sites with over 250,000 viewers each month. They have a huge selection of online coupons for you to select from!
They also offer a great incentive program when you share coupons! It's called, "Pays-2-Share." Every time someone uses a coupon you've uploaded, Coupon Chief will give you 2% of the sales!
Another great opportunity they offer is called "Coupons-4-Causes." I'm really excited about this one. I love coupons and I love sharing! With Coupons-4-Causes, you can help support your favorite cause every time you shop. Just use our coupons for your online shopping, and we'll donate up to 20% of the purchase to your favorite charity, school, or church. How great is that?
This is one of the most informative online coupon sites that I've found. They've even got an online tutorial to show you how to use online coupon codes if you're new to shopping on the internet!
I shop online all the time and Coupon Chief will definitely be my new best friend!
Try it out today and I think you'll love it too! Have you ever heard of Couponchief.com? If not head over there and let me know what you think!
This review is my own opinion and words. However, I was compensated for my time by couponchief.com.